NIH Developed Rhesus Macaque Model to Study Novel Coronavirus Infection
2013-04-18
---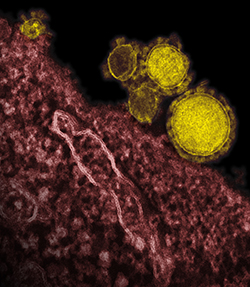 Transmission electron micrograph of novel coronavirus particles, colorized in yellow
Credit: NIAID/RML
As reported in the online edition of New England Journey Medical on April 18, 2013, National Institutes of Health (NIH) researchers have developed a rhesus macaque model for coronavirus infection, and used it to study how the virus causes disease and to evaluate potential vaccines and antiviral treatments.
For details, refer to the CORRESPONDENCE:
Pneumonia from Human Coronavirus in a Macaque Model
. N Engl J Med (2013) doi: 10.1056/NEJMc1215691.
Vincent J. Munster, Emmie de Wit, Heinz Feldmann